28 Apr
Posted By
0 Comment(s)
409 View(s)
Çözümler
HDMI/DVI/VGA/YPbPr/SDI and IP/HDBaseT KVM Switcher Integrated with Multiviewer.
Key Features

All-In KVM Matrix Switcher: Incorporates HDMI/DVI/SDI signal switching, monitoring, and operation functions into a modular system.
Independent Routing: Video and mouse/keyboard control through the non-blocking matrix switching architecture.
Multiviewer Output Cards: With mouse/keyboard connectivity provide quad/dual-view monitoring and remote access to multiple systems.
Scalable Architecture: Enables multiple systems to be cascaded for meeting additional operation or monitoring requirements; all units are managed via one monitor and mouse/keyboard.
Overview
The solution is a modular matrix switcher that incorporates switching, distribution, monitoring, and operation of multiple computing devices and video signals into a modular structure.
It offers high-speed video routing, flexible KVM switching, and multiviewing capabilities through various I/O card combinations.
Designed for streamlined operation for a cluster of users with multiple systems, system allows creation of multi-screen multiview user space by grouping display outputs. The "Surfer" feature allows user to manage a variety of systems across multiple monitors and seamlessly switch control to any of the system via one set of mouse and keyboard.
The solutions provides an in-system GUI for switching and routing configuration, as well as real-time monitoring of source/output for routing preview and confirmation. Additionally, user can remotely access any of the system directly on the GUI, ideal for wide range of applications in need of a centralized administration solution.


Flexible I/O and Workstation Configuration
Wide selection of I/O cards for multi-format signal routing, quad/dual multiview monitoring and KVM switching.
Auto-senses HDMI/DVI/VGA/YPbPr and SDI (3G/HD/SD) / CVBS (NTSC/PAL) source signals. (*HDMI 1.4 and SMPTE 424M/292M/344M/259M compliant).
HDMI I/O cards are HDCP compliant with support of videos with 8-channel embedded audio.
HDBaseT and IP input and output cards (SIB-T/SIB-IP and SOB-T) used in conjunction with extenders.
Adaptive video equalization extends cabling distance up to 40m for 1080p/60 HDMI source signal.
Output cards provide mouse/keyboard connectivity for direct system control (up to 4 systems from a quad multiviewer card).
Output grouping and "Surfer" empower streamlined user space operation (control up to 16 systems across 4 screens via one set of mouse and keyboard).
Quad/dual cards work in conjunction with the GUI Box to provide individual video routing for all user spaces.
Intuitive Control and System Administration
In-system GUI facilitates switching and configuring grouped user space via local monitor, USB mouse and keyboard; no additional software required.
Real-time monitoring of any 2 images for customizable preview/confirmation windows; enables remote control of source systems directly on the GUI.
Control Board (CB) provides local system connection allowing seamless switch of operation between the GUI and local system.
Drag-and-drop operation of video routing and keyboard/mouse switching from any input to any output on the GUI.
Front push-button panel provides an alternate switching/routing control.
With Wake-on-LAN feature for turning on computers on the network.
Supports multi-language.
Feature Highlights
HDMI / SDI and KVM Switcher Integrated with Multiviewer
Accommodating a comprehensive set of I/O cards, the solution incorporates high-performance multiviewer and KVM switcher into one chassis. Capable of taking HDMI, DVI and SDI source signals from a variety of AV/IT equipment, it delivers an integrated solution for signal routing and distribution, concurrent monitoring, as well as KVM switching for streamlined access to multiple systems.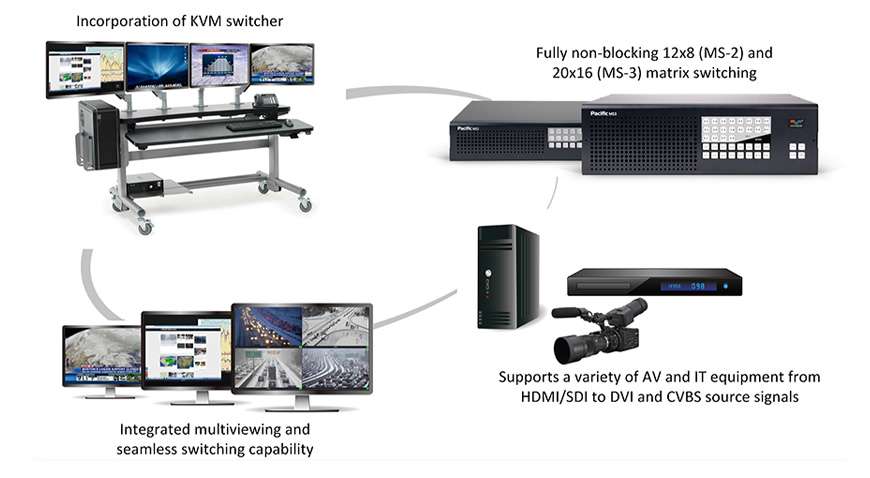 Non-Blocking Any-to-Any Switcher
The solution handles multiple video formats and can serve as the hub for connecting a mix of computers, cameras, and videos to monitors and projectors. With instant matrix crosspoint coupled with non-blocking switching architecture, system is capable of mapping varied sources to any one or multiple destinations located nearby or disparately per application demand.
Seamless & Concurrent Switcher
Employing output cards with dual scalers, the solution delivers an affordable solution to seamlessly switch/route any video signal across numerous displays. Multiple sets of sources can also be seamlessly routed to respective destinations all at once with a single command, fully addressing the needs for uninterrupted image or video transitions throughout staging and presentation applications.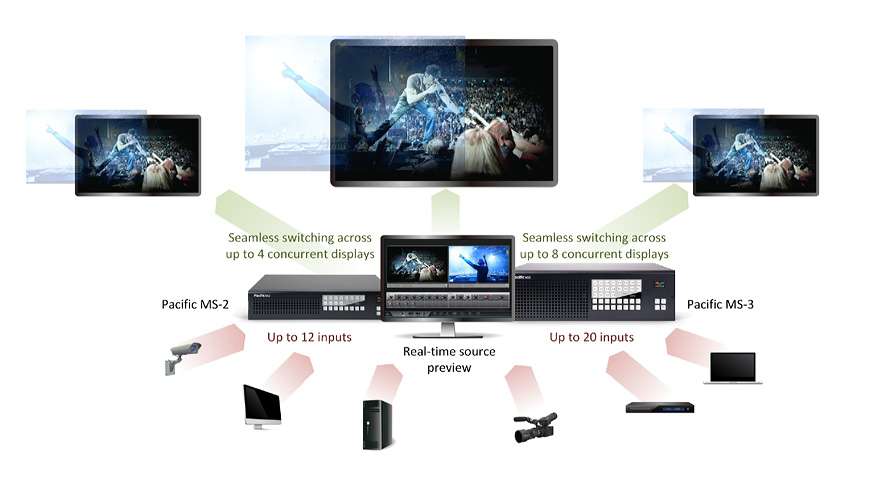 Output Grouping & Multi-Monitor Workstation
The solution features grouping of individual outputs and creating multi-monitor workstations for easy management over multiple systems. Without requiring separate sets of mouse/keyboard, the operator can seamlessly switch to control any workstation computer by simply moving the mouse pointer from one screen/window to another ("Surfer" feature).
Integrated Single-User Workstation
Custom workstation allows user to access information coming from disparate sources and networks within easy reach.
Taking streamlined workflow to the next level, the system enables grouping the controlling GUI with other outputs.
This forms an integrated workstation for effective operation space across multiple systems.
Multi-User Command and Control Workstations
Flexibly grouped from various combinations of outputs, a single workstation can accommodate up to 16 systems across 4 monitors. This streamlines multiple systems control and reduces equipment clutter, creating a more ergonomically effective working environment. Alternatively, the system can configure multiple workstations, facilitating concurrent monitoring and distributed multi-user command and control operation.
Intuitive In-System User Interface
The solution offers an user-friendly in-system GUI that manages all configurations without the need for PC-based software.
It comprises intuitive router control and workstation configurations with drag-and-drop simplicity. Featuring real-time monitoring of any source/output and remote access to any source all via a single interface, the system simplifies signal routing and centralized administration over all connected systems throughout the facility.
Local and Remote Administration
Compact enclosure powered by 12V DC source that is the standardized power supply provided in vehicles, the Sequoia Series is an ideal multi-image processor to be installed in mission-critical vehicles. Such as patrol vehicle, OB van, and mobile control center where numerous computer and video sources are particularly utilized, without the needs for additional power inverter or supply. The Sequoia Series integrates aggregated information to be easily managed and access through single keyboard and mouse set according to application demands, aiming for higher situational awareness as well as effective decision-making in a timely manner.
System Cascade Architecture
Scalable system architecture enables multiple systems to be cascaded to accommodate additional workstations for larger command and control needs. Administration over multiple units and their connected systems remain intuitive in the same manner as managing a single system. Through one monitor and mouse/keyboard console, administrator can freely switch control between any cascaded unit.
Video Wall Processor Management
The solution can be integrated with video wall processors and manages multiple video walls at the instance of one PC-based software control. The administrator can easily share resources across up to four video walls throughout the facility for effective information processing, while switching back to the systems' GUI anytime when routing reconfiguration is needed.
Integration with Existing Routing/Switching Platform
Functioning as the central hub of a complete command and control solution, the system seamlessly adapts with any existing router installations in the control room. Compatible with numerous third-party video routers/switchers, it ensures meeting the largest facility requirements and enables intuitive management of the entire command and control system from a single point of control.
All-in-One Command and Control Solution
Integrating multiple system switching, multiviewing, as well as multi-monitor workstation, video wall processor, and upstream router management, the system is dedicated to facilitating command and control operations of any scope.
It streamlines existing routing/switching platforms and the correlated compatibility challenges, ideal for extensive range of control room applications.