10 Jan
Posted By
0 Comment(s)
456 View(s)
Blog
HyFlex: a new format in education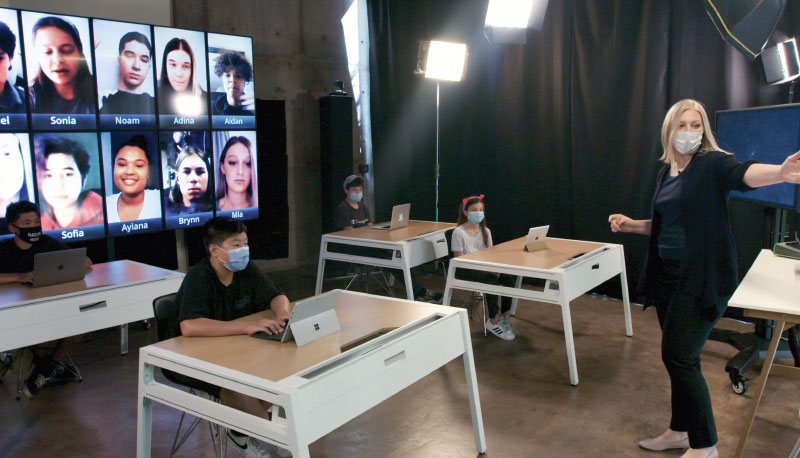 Due to the fact that full return of students or students to classrooms and classrooms is not currently recommended in many countries and regions, many schools have opted for a hybrid learning model - partly online, partly face-to-face - known as HyFlex. As a result, they faced a serious problem: how to provide equally meaningful instruction both in the classroom and over the Internet? The technical issues are key here, and it is extremely difficult not to get confused by the large number of possible solutions.
What is HyFlex?
HyFlex (Hybrid + Flexible, Hybridity and Flexibility) is a learning model that combines elements of face-to-face and online learning. It was first introduced to higher education in 2006 in order to give students the choice of attending classroom or studying online, while being able to change from one to the other at any time.
In the context of the coronavirus pandemic, the HyFlex model is becoming an especially relevant solution, since it can significantly reduce the number of students in the classroom or classroom. Its flexible nature also offers an added bonus: since the level of restrictions can change at any time, classes and audiences already prepared for use of the HyFlex model can adapt to new circumstances faster and more efficiently.

Three guiding principles for HyFlex equipment
Schools are using system integrators and their own IT staff to turn regular classrooms into HyFlex-ready classrooms and are looking at options. The main requirements for technical solutions are reduced to ensuring the following three conditions:
1. Improving the general level of learning
In the simplest case, educational institutions can limit themselves to using video conferencing services such as Zoom. After all, these services are easy to use and very affordable. But if you use only video conferencing, it will not be able to provide the necessary level of interaction and interest of students. For today's students to truly "remotely attend" classrooms, educators need a much wider arsenal than just webcam video, laptop audio, and multiple screen sharing features.
The solution should offer advanced video capture features with an emphasis on interactivity and quality. Schools should provide teachers with tools that can engage students in the process. For example, by exchanging multimedia data and high quality video. The audiovisual information that remote and full-time students see and hear must match as much as possible. For example, if students in the classroom receive information on the board, online students should also clearly see it. If a student asks a question in class, online students should hear it too. The solution is to capture and transmit images from computer screens and projectors, as well as audio and video from the audience itself. And all this in high quality and in real time.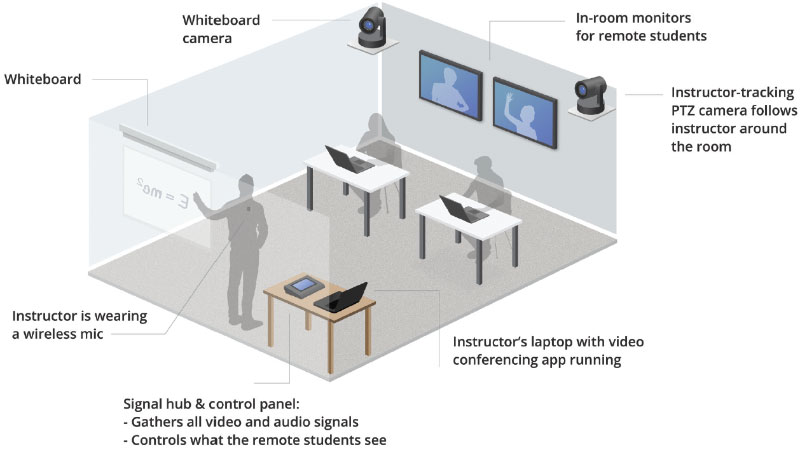 2. Ease of use for teachers.
For most educators, ease of use will be the top consideration. They are unlikely to want to master technical nuances in addition to preparing the lectures themselves. A smooth and orderly transition to the new workflow is essential, and this requires direct integration with existing tools such as the school's Learning Management System (LMS). Workflow automation is also important - the ability to schedule lecture recordings and automatic file uploads, ensuring that video files are available to students for viewing at any time.
3. Easy to install and maintain for personnel.
It is clear that reliability is a factor that IT staff and educators expect from any solution in the first place. It is natural to expect that the system will always provide consistent quality results. This means that every classroom or auditorium designed to work with the HyFlex model must be equipped with the most reliable cameras, audio and video equipment, and video and audio capture devices. And all of this must be seriously tested.
HyFlex high performance classroom equipment
At the heart of any HyFlex classroom solution is streaming and video recording equipment that enables remote learning by capturing, mixing and delivering video content online. The versatile Pearl-2 and Pearl Mini lecture recording, streaming and recording systems are ideal for HyFlex classrooms.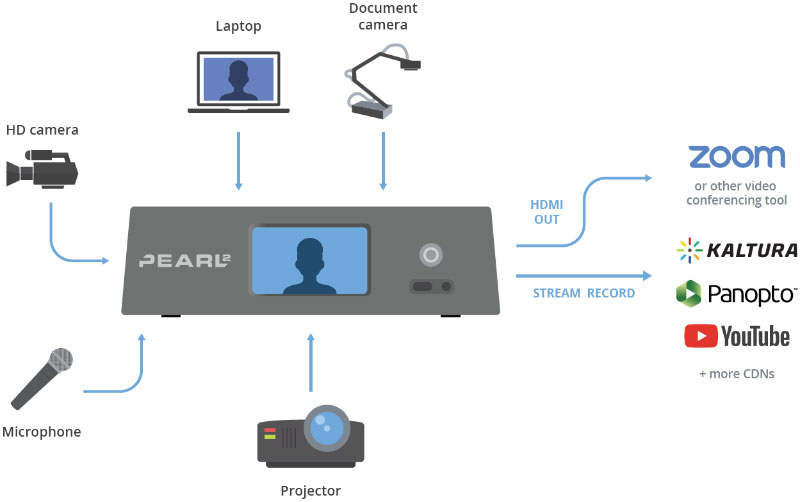 Ease of use
Teachers can control any Pearl system at the touch of a button. Pearl is also great for IT professionals with its easy network setup process. Staff can also access and control any device remotely through the Epiphan Cloud service.

Versatility and flexibility
Equipped with advanced features, the Pearl family devices can be easily adapted to your specific use cases. They allow you to both broadcast lectures live for synchronous learning, and record them for asynchronous remote learning. Pearl can be used to capture, mix, and switch between various video sources such as professional camcorders, document cameras, microscopes, and more.
Integration with Panopto and Kaltura
Pearl devices have seamless integration with the popular Kaltura and Panopto content management systems. This allows users to easily create scheduled, recurring or ad hoc sessions. Downloading files with recording lectures is done automatically, saving time on administration.
Reliability
Pearl-2 and Pearl Mini can operate 24 hours a day, seven days a week, continuously delivering high-quality streaming and video recording. If you have any questions, Epiphan's customer support team is always ready to help. So, IT professionals in educational institutions can safely equip any number of classrooms and classrooms with Pearl devices.

Developing solutions for HyFlex is primarily about leveraging technology to create the best possible learning environment for both full-time and online students. It is important to give teachers the tools to motivate and engage both remote learners and those in front of them in the classroom. And it is equally important that the equipment for these solutions is as reliable and easy to use as possible, and above all for teachers.
Epiphan Pearl-2 and Pearl Mini are the simplest and most reliable video encoders and versatile video production systems for broadcasting and recording lectures, distance learning, HyFlex classes and more.