Properties
NETFLIX CERTIFIED BOX CAMERA PERFECT FOR LIVE STREAMING, BROADCAST AND CINEMA: The

high-performance BGH1 is small and lightweight with expandability and multi-camera control via Wi-Fi, PoE+ and 3G-SDI.

AMAZING IMAGE QUALITY: The

camera uses a high-sensitivity, 10.2MP Live MOS Micro Four Thirds sensor with Dual Native ISO technology to minimize noise, providing superior low-light performance.

OUTSTANDING VIDEO FEATURE:

C4K / 4K 60p 4:2:0 10-bit, 4:2:2 30p 10-bit ALL-Intra 400Mbps recording, 13-stop dynamic range V-Log L.

PROFESSIONAL-LEVEL FEATURES:

10-bit internal recording provides rich data and smooth transition with the option of simultaneous live output over HDMI or 3G-SDI. It supports anamorphic recording, Genlock IN / Timecode IN / OUT and unlimited recording in all settings.

REMOTE CONTROLLER:

Remote control of multiple BGH1 cameras over Ethernet with the LUMIX Tether App while powering them via PoE+. Control by both app and SDK is also available via USB-C.
---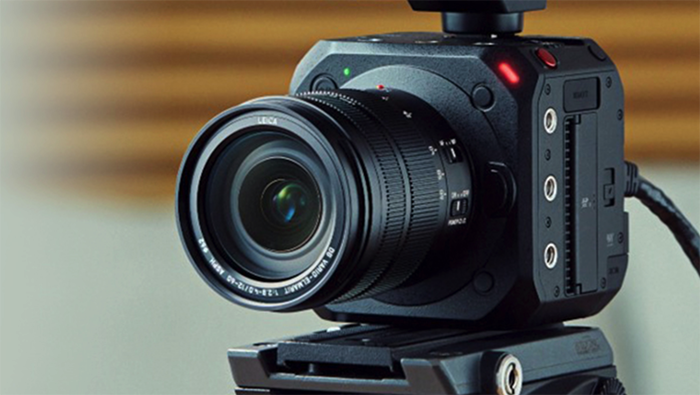 Unbox Your Creativity
The high-performance live broadcast camera is small and light, expandable and with multi-camera control perfect for live broadcasters, broadcasters and cinema.
Box Style Cinema and Live Camera
Dual Native ISO, C4K 60p 10-bit recording, 13 stops of dynamic range with V-LogL, in an easy-to-deploy box-style camera for increased shooting flexibility.
Superior Low Light Performance
High sensitive 10.2MP Vivid MOS sensor with Dual Native ISO technology for exceptional low-light video performance. *
* The Micro Four Thirds™ name and logos are trademarks or registered trademarks of Olympus Corporation in Japan, the United States, the European Union and other countries and regions.
A LUMIX First: Simultaneous SDI / HDMI Output
For professional cinema quality, you can simultaneously monitor the SDI output, record the HDMI output externally, and control the camera remotely via USB or LAN connection.
A LUMIX First: Ethernet / PoE+ Compatible Camera
When you connect the BGH1 with Ethernet cable, your camera will be powered via Ethernet* and multi-camera remote control is allowed via LUMIX Tether software.
* IEEE802.3at compliant.
Remote Control Multiple Cameras with LUMIX Tether
Multi-camera recording enabled by Ethernet cable connection in LUMIX Tether software* enables more efficient video production.
* LUMIX Tether for Multicam software will be released in the BGH1 product shipment.
Front Warning Lamp / Rear Warning Lamp
Thanks to the clear lines of the body design, the tally lights can be viewed from the front, top, side or rear, providing pleasant comfort with every shot.
Stable Connection with Simultaneous SDI / HDMI Output
Supports extended cable runs and external monitoring. It supports simultaneous C4K / 4K 60p 4: 2: 0 10-bit internal recording and C4K / 4K 60p 4: 2: 2 10-bit HDMI live output external recording.
3 Power Supply Options
Three power supply options are offered. 1. AC Adapter (12V, 3A) (packaged) / 2. Li-ion Battery Pack (7.28V) (sold separately) / 3. PoE + (IEEE802.3at compliant) (sold separately).
2
74,529.68 TL